Jail internals
How jail interacts with the login process
by
Juan M. Casillas
created at 26/08/2003 17:10:48
last updated at 05/09/2003 23:08:47
Before configure Jail, we have to need how Jail works. As you can see in the following diagram, the first things that Jail does is get the user's information from the non-chrooted /etc/passwd. In this file there are information about where jail is located (the shell entry of the password file for this user) and which directory will be chrooted (the home directory entry of the password file for this user).
After that, Jail changes to the user directory and then it calls chroot in this directory, creating the chrooted environment. After this call, Jail only can see the files under the chrooted directory. Now, Jail setups some environment variables (the HOME and the SHELL variable that will be used by the real shell).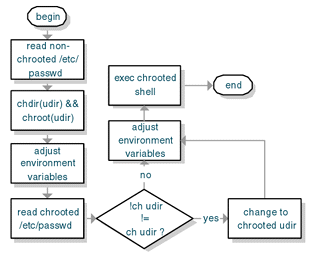 Now, Jail gets the users' information from the /etc/passwd file in the chrooted environment, and checks if the user home directory is the same that the user home directory information readed from the non-chrooted file. If they are the same, the HOME variable is set to / else, Jail changes to this directory, and changes the HOME variable to this one.
Last, Jail set up again enviroment variables, SHELL is set up with the information readed from the chrooted /etc/passwd file. Now Jail replaces itsef with the shell program stored in the SHELL variable, runing the shell.